Caribou & Four Tet & Nathan Fake & James Holden
Last night I witnessed possibly the best gig of the year for me so far. I would have been happy to see any of the four acts in their own right - the combination was unbelievable!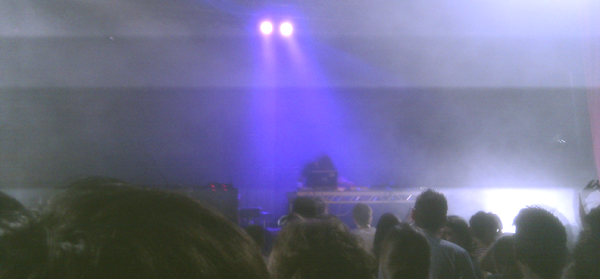 First up with a amazing live setup of various bits of electronics is Nathan Fake. The set is mostly in a similar vein to his more recent Hard Islands EP, playing synth-heavy, techno grooves though a few samples from his more ambient first album drop in here and there. He manages to make his performance feel pretty "live", with plenty of tweaking and glitching on the fly - not just hiding behind his laptop. Too many electronic acts seem to use the phase "live" a little too liberally, playing essentially glorified DJ sets, but this felt genuinely fresh.
Next on the bill is label-mate James Holden with one of his much respected DJ sets. I am normally a little wary of heaping praise on DJs, but you can tell that Holden treats it as an art. At first not much seems to happen, but you start to realise that you are subconsciously starting to dance. It's a slow build, but done to perfection. He has a confidence too, not a Tiësto superstar DJ preening, but the look of someone who knows what they're doing.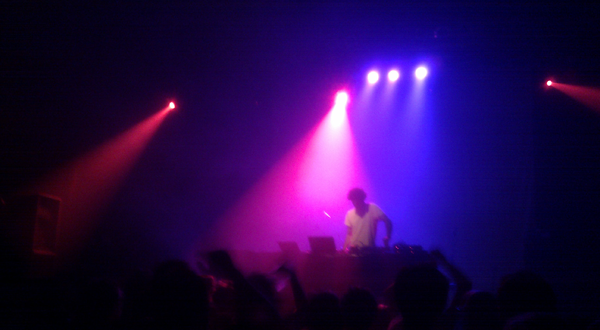 It would have been pretty difficult for Kieran Hebden, aka Four Tet to follow two deep techno sets with the glitchy, folky electronics of his first few albums, and he doesn't. Opening with a techno reworked version of live favourite Spirit Fingers works brilliantly though, sending the crowd into a frenzy. This is followed by plenty of tracks from his amazing new album There Is Love In You, which is a much more danceable affair. There's a great moment during Love Cry when Hebden teases the crowd with just the opening snare hit of the main beat. With Pavlovian obediency, the crowd is tricked into a fleeting post-"drop" high. This is clearly an audience that knows his music inside out!
Finishing off the night is Canadian musician Caribou, complete with backing band. As with Four Tet, Caribou also sticks mostly to songs from his excellent new dance-orientated album Swim, though early classic Melody Day is much welcomed by fans. The drumming is superb throughout, occasionally with two drummers playing simultaneously. The synth parts are fantastic too, sounding very unique, intriguing and other-worldly. The only let down is the bass guitar which seems to sit far too high in the mix. This is a problem I've found at a few gigs recently, bass guitar so loud it distorts the air making it impossible to discern any sort of pitch, just a low rumble. But overall their set is very tight, and topped off with hypnotic visuals it's the perfect end to the night.
All the acts are supposedly close friends and that definitely comes out in the music. Both Caribou and Four Tet's sets have a similar groove to them, which also borrows from the much more techno driven music Holden and Nathan Fake are currently making. If you get the chance to see any of these guys, jump on it straight away. I cannot recommend them highly enough.